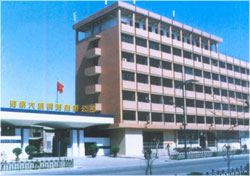 Henan Dae Sung Reed Co., Ltd., a Sino- South Korea JV between Henan No.2 Textile Facilities Plant and Dae Sung Reed Business corporation of South Korea established in 1994, is a professional jet machine profile reed provider. It is an independent enterprise with the right for dealing in import and export .
Equipped with several highly precise and automatic reed product lines as well as computerized testing machine for metal reed air-flow value, our company is undergoing advanced operating techniques conforming to international standard like reed-making, finishing, solidifying and testing. We not only use world advanced experience for reference to strengthen manufacturing and management but also pay great attention to the material sourcing. At present most of our materials are coming from Japan and South Korea etc which are of high quality and can be used to match unconventional reeds for jet machines made in Japan and some western countries. Moreover, our company has been granted GB/T19001-2000-ISO9001:2000 international quality standard.
Our company specializes in unconventional reeds with the density ranging from 30#/2'' to 140#/2" for jet machines in the length under 4M. In order to guarantee the quality and protect the interest of our customers, we cling to the principal " what we manufacture are only top-quality products." All the unconventional reeds made by us are of high intensity, with consistent reed dent, fluent gas way and low gas cost, which suit the high-speed running jet machines in various width .
Adhering to the fundamental credendum " valuing quality, keeping good trust, offering best service", with reasonable prices and efficient delivery, we warmly welcome both new and old customers to visit us for mutual development.